Moving Pages is a communal experience for anyone who says, at any time, "I can't dance."  Its structure is made up of one part reading group, one part experiential anatomy and one part dance jam.  Through instruction and self directed exploration class is designed to engage your centers of language, imagination, visualization and sensation.  Sessions begin with a guided movement experience led by Jessica Marasa and close with music and an open jam form.  Each session exists independently of that which came before it, however it's offered as a series to support your regular return to building confidence in your ability to change.
In Moving Pages you will: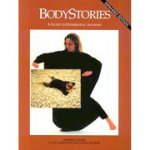 Dissolve Intimidating assumptions around your ability to move with ease.
Ingest and digest information at your own rhythmic speed.
Practice trusting and integrating your moving impulses.
Freely express yourself through dance and gain awareness of your range of motion.
Source Materials and Schedule
The Spring 2016 sessions will work through Bodystories, written by Andrea Olsen .  The practices introduced in the text will lead our investigation into how we sense ourselves in the space we inhabit and the space that surrounds us.  The readings are short and simple and invite all levels of learning.  Click here to purchase Bodystories.
– Please read the following selections prior to each session –
3/26
4/2
4/9
4/16
4/23
4/30
5/7
5/14
5/21
5/28
6/4
6/11
6/18
6/25
7/2
7/16
7/23
Pages

15-21

Pages

23-29

Pages

31-37

Pages

39-47

Pages

49-60

No
Class
Pages

61-70

Pages

72-77

Pages

79-86

Pages

87-95

Pages

97-104

Pages

105-117

Pages

119-129

Pages

131-145

Pages

147-156

Pages

157-159
Click here to download the Moving Pages Flyer
Click here to view poems inspiring Moving Pages