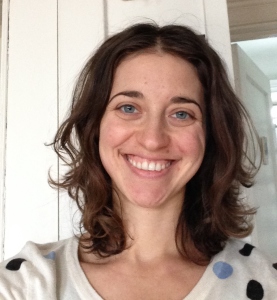 Jessica Marasa is the founder of The Watering Can.  She loves to dance, sing the incorrect words to songs and make faces that frighten her in the mirror.  Moving studio time continues to exist as a container for uncertainty, friendship, inquiry, liberation, fluidity and connection.   The Chicago dance community has served as a place of discovery for Jessica since 2007 where she continues learning from and performing with Ayako Kato, Kristina Isabelle, Lara Oppenheimer, Sarah Gottlieb, Khecari, Same Planet Different World and local dancers and musicians as part of Collision Theory.  In 2008 Jessica became an ensemble member and collaborator with Molly Shanahan/Mad Shak and since has been deeply impacted by the rigor and spirit of Molly's intrinsic phrasing and crafted compositions and the embodied curiosity and intelligence of fellow ensemble members Kristina Fluty and Benjamin Law.   At the onset of 2014 Jessica began presenting work independently to continue feeding her interest and investment in improvisational performance practices.  These moments have been shared at Stage 773, Links Hall, Hamlin Park and Signal Ensemble Theatre as part of PRODUCE and have been work-shopped in settings led by Miguel Gutierrez, KJ Holmes and Lisa Nelson.
Jessica taught modern, ballet, jazz and yoga for two years as an adjunct faculty member at The University of Chicago and in addition to her offerings at The Watering Can, she currently substitute teaches modern classes throughout the city and administratively supports educational programming at the CG Jung Institute of Chicago.  Jessica is currently working towards the completion of a Somatic Movement Educator certification in the study of Body Mind Centering and is a student of yoga at Moksha Yoga Center with teachers Alie McManus, Erin Cowan and Katie Tuttle.  Most recently she started practicing sitting and walking meditation in her home, on the bus, in the studio, at the lake and with her Sangha at the Zen Buddhist Temple of Chicago.
She sends her deepest gratitude to you.
Artist Statement